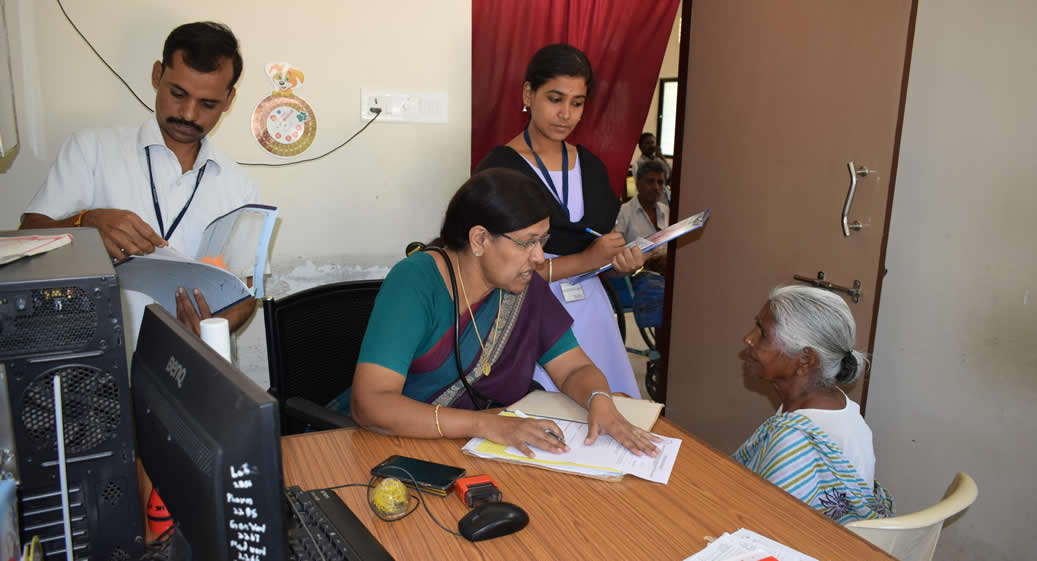 NAMES OF DOCTORS:
Dr. Philomina Austin, MBBS, MD (Medicine)
Dr. Sakthi Arul C,MBBS
Dr. Sharmila Rajkumari, MBBS
OUT-PATIENT SERVICES
Timings of OPD registration at Karigiri: 8:00 am – 12:30 pm (Monday – Friday)
8:00 am – 10:00 am (Saturday)
Patients are seen as soon as possible to avoid long waiting time. Complete history and physical examination are complemented with rapid lab reports and X-ray films to make the diagnosis as early as possible. Treatment options are given to the patient after a quick health education on the disease and its prognosis. Patients are encouraged to clarify any doubts and decide on the treatment. Holistic care is provided with the help of a good referral system.
IN-PATIENT FACILITIES
There is a reasonably equipped Medical ward (6 male beds, 4 female beds and a comfortable Private ward (Lazarus ward) (5 beds: 2 AC & 3 non AC). We ensure low cost but effective care for our patients through facilities such as
O2 Supply
Pulse oximeter monitoring
Crash cart
Water bed
Isolation rooms
Nebulizers
Steam Inhalation
Chest physiotherapy
Glucometer RBS monitoring
Suction apparatus
Back rest for prop-up
Cots with options to prop-up / fowlers / side rails
BLOOD TRANSFUSION FACILITIES
Diagnostic procedures: Blood culture, Lumbar Puncture, Pleural tapping, Ultrasonography (once a week), Bedside ECG Machine, Bedside X-Ray facilities.
Ward rounds are scheduled at 9:00 am everyday when the results are reviewed and alterations in management are made. Holistic care is provided for the patients with the help of a good referral system within the various specialties in the hospital, a 24 hours' In-Patient Laboratory and X-ray department. Time is allotted for discussing the progress and prognosis of the patients to the relatives during rounds after which further plans are made. Proper advice at discharge regarding medications and follow up are given to ensure complete recovery from acute illness.
TRAINING PROGRAMME
We offer a BSc Physician Assistant course:
3 year duration with 1 year internship
Affiliated to the Tamil Nadu Dr. MGR Medical University
The students are specially trained in history taking. They also have ward postings and assist the physician in checking vital signs, typing discharge summaries, writing prescriptions and investigation slips, taking ECG etc.
KEY ACTIVITIES OF THE DEPARTMENT
Diabetic Clinic on all Thursdays
Medical Camps in the needy villages.
RECENT EVENTS & ACTIVITIES
COPD Day Observed on 15th November, 2017
The Medicine Department is happy to share that "the COPD day" was observed on 15thNovember, 2017,in a meaningful way. The event started with prayer by pastor, Rev. Devadoss, which was followed by a short introduction of COPD (Chronic Obstructive Pulmonary Disease) by Dr. Philomina Austin (Head, Dept. of Medicine).
A free Spirometry camp was organized (sponsored by Glenmark),which was beneficial to plenty of patients. Simultaneously,health education on COPD was presented by the nursing students with models which helped people to understand about the disease in a simple and easy way.
There was also a poster competition, in which Dip. Nursing Students & B.Sc. Physician Assistant students participated. The judges were Dr. Mannam Ebenezer (Director) and Dr. Shirley Chacko (Deputy Director). The winners were given exciting prizes for encouragement. The day was long, but every minute was worth the effort.
Thanks to the Lord for making this event successful!
SHARE THIS STORY, CHOOSE YOUR PLATFORM!
The Schieffelin Institute of Health – Research & Leprosy Centre (SIH-R & LC),
Karigiri, (via Katpadi) – 632106, Vellore District,
Tamil Nadu, India.
Phone: 0416-2274-223
Mobile: 9442274224
Email: directorate@karigiri.org
Web: www.leprosyhealth.org