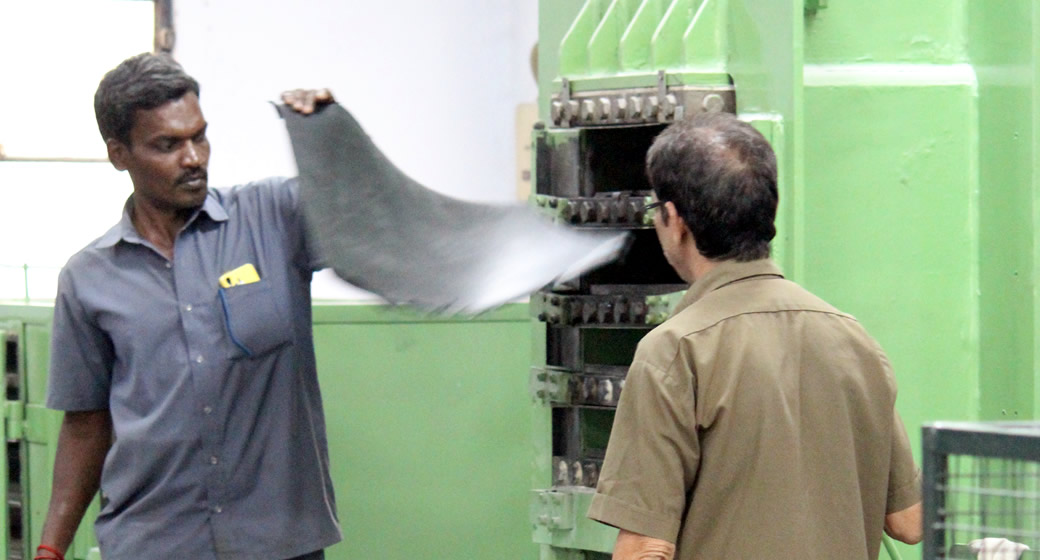 Micro Cellular Rubber
MCR: History
How does one protect the anesthetic feet of leprosy patients? This was the question uppermost in the minds of people like Dr. Paul Brand, Surgeon, Mr. David Ward Physiotherapist & others who worked in Karigiri in the early sixties. What material would fulfill the requirement of protection and softness? Would rubber be suitable? The medical fraternity had little knowledge about the properties of rubber. Dr. Brand approached the Chairman of the MRF, Mr. Mammen Mappillai. Dr. Brand had operated on a relative of his. The connection with MRF was made and it continues to this day
MCR was developed at the Karigiri Hospital in 1965, in collaboration with the R &D wing of the Madras Rubber Factory (MRF), Chennai; Mr. George John was deputed to work on with the Karigiri team. It has been used extensively, to address the needs of leprosy patients. Mr. K M Mammen Mappillai, was instrumental in providing resources and technical support gratis to Karigiri to develop MCR as part of his social concern. In recognition of this contribution the MCR facility at Karigiri was named the K M Mammen Mappillai Micro Cellular Rubber Unit in 2006.
What is MCR?    
MCR is a specially processed rubber material, where bubbles of air are introduced into the rubber, creating "micro-cells" that generate a controlled amount of softness and cushioning.
Department Head and team    
Mr.Samraj
Mr. Paul Raj,
Mr. C. Ravi
Special features of Karigiri MCR
¨Scientifically proven degree of softness
¨Even re-distribution of pressure
¨Good abrasion resistance, cushioning effect, flexing and resilience property
¨Durable and low cost
¨Cosmetically acceptable
To ensure quality, the MCR is tested in the Research Lab, which is supported by the Rubber Research Institute of India RRII, Kottayam, Kerala.
SHARE THIS STORY, CHOOSE YOUR PLATFORM!
The Schieffelin Institute of Health – Research & Leprosy Centre (SIH-R & LC),
Karigiri, (via Katpadi) – 632106, Vellore District,
Tamil Nadu, India.
Phone: 0416-2274-223
Mobile: 9442274224
Email: directorate@karigiri.org
Web: www.leprosyhealth.org