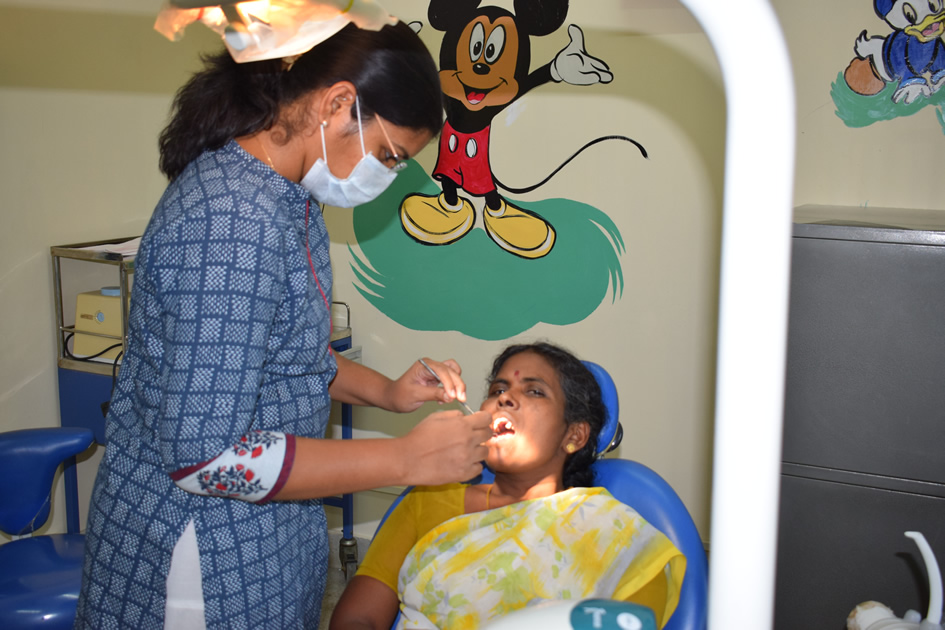 ABOUT
The dental department at the Paul Brand Integrated Health Centre at Katpadi was started on the 23rd of July 2005 when Center was inaugurated.
The First Dental surgeon was Dr.Newton Edward Dhas a brilliant clinician and a highly skilled dental surgeon. With his fine administrative skills he built the dental department as a center of excellence and the services provided was greatly appreciated and the department grew and I ak told that it catered to a minimum of 15-20 patients per day. He was joined by Dr.Merlin a skilled General Dentist.
A Dental clinic at Gudiyatham was opened in the year 2008 and this facility was made operational on Mondays and Friday's and Dr.Divya was the dentist in charge there.
The clinic at PBIHC worked from 8:00am to 4:30pmon weekdays and from 8am to 12pm on Saturdays.
Later this clinic was shifted to the main hospital at Karigiri in 2011 and was efficiently managed by Dr.Osborn Abel and Dr. Evelyn
The dental department at the Paul Brand Integrated Health Center was closed for a few years was restarted on the 28th of May 2018 under the Guidance of Our Director Dr.Jerry Joshua .At present Dental clinic at PBIHC works from 8am to 4:30pm on weekdays and 8am to 12pm on Saturdays.
The clinic at PBIHC is run by Dr.Mary Sarojini and Ms.Nimmi Hygienist cum Dental assistant and the restarted department is showing a steady improvement in the number of patients coming for treatment.
The Health care workers at P B I H C a major role in maintaining the Center and the making sure that the House keeping is perfect.
The Department of Dental and Oral surgery extends its Dental service to the remote villages in and around Vellore dist,  this is done in close partnership with  the department of community health. We have covered places like 66 puthur, Thandalam Krishnapuram, Sevoor, Brahmapuram and Karigiri village and even checked the oral hygiene status of children in the local government schools from class 1 to 12.
At our outreach camps a motivational talk is usually given at the end of each camp explaining the need to maintain good oral health and ways to achieve it using a typhodont and a powerpoint presentation containing videos of different filling techniques and brushing techniques.
Dr.Mary Sarojini,  B.D.S
Ms.Nimmi Sivakumar, CGHC
SERVICES PROVIDED
Patients ranging from pediatric to geriatric are treated there.
For pediatrics with early childhood caries and Nursing bottle caries are treated with restorations and even space maintainers.
The geriatrics is treated with full dentures and some with fixed prosthesis.
The dental dept. also emphasizes the importance of having a healthy oral environment with routine scaling and dental checkups every 6 months though asymptomatic.
We provide RCT, polishing of the teeth, tooth colored filling and replacement of old fractured fillings,
Surgical removal of impacted and partially erupted tooth
Crowns for fractured and decayed tooth
All kinds of oral biopsies and minor surgical procedures
Closure of midline spacing in the front teeth using removable Orthodontic appliances
Curettage, Cyst enucleation and wound debridement
Accidents and trauma of the mouth and oral mucosa
Fixation of intermaxillary fractures
Dental x-rays are also done here
PAUL BRAND INTEGRATED HEALTH CENTRE,
SELVAM NAGAR , OLD KATPADI VELLORE 632009
0416 2274227/ 2274228/2274229  Extn; 1257
dental@karigiri.org.
SHARE THIS STORY, CHOOSE YOUR PLATFORM!
The Schieffelin Institute of Health – Research & Leprosy Centre (SIH-R & LC),
Karigiri, (via Katpadi) – 632106, Vellore District,
Tamil Nadu, India.
Phone: 0416-2274-223
Mobile: 9442274224
Email: directorate@karigiri.org
Web: www.leprosyhealth.org