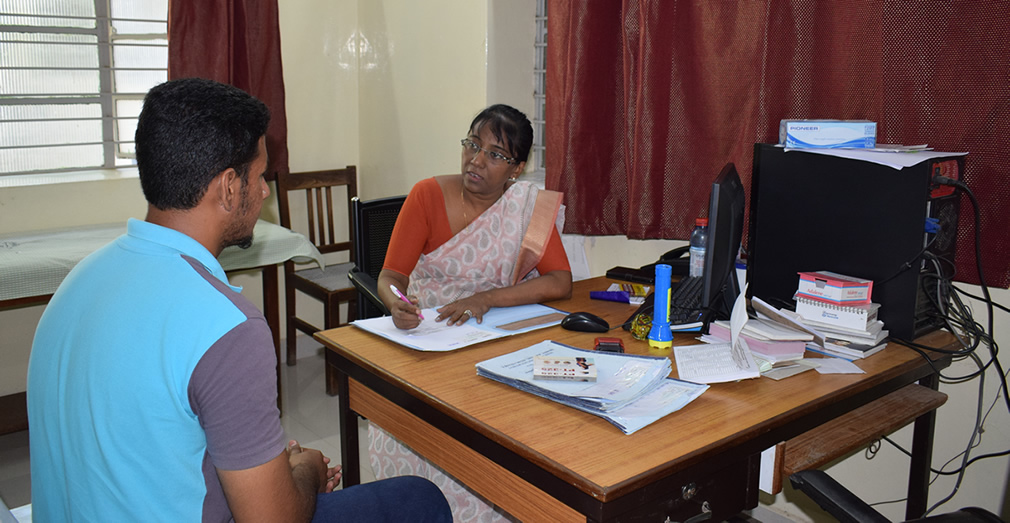 The department has an average outpatient attendance of about 960 patients per week with a wide variety of cases. Of these, about 9% are leprosy patients. Dermatology services are available at:
Karigiri (main hospital) – Monday to Friday (8am – 12:30pm) – Saturday (8am – 10:30am)
PBIHC (Old Katpadi) – Monday to Friday (8am – 10:30am)
Gudiyatham Clinic – Monday to Friday (7:30am – 1:00pm)
General wards and private rooms (with and without a/c) are there at Karigiri main hospital for both leprosy and general dermatology patients.
In addition to experienced personnel involved in the diagnostic and therapeutic work, we are ably supported by the laboratory facilities for biopsies, mouse footpad studies for leprosy, molecular biology techniques for drug resistance, and a well developed lab for microbiology, clinical biochemistry and clinical pathology.
Apart from all these, we also have the added advantage of being close to CMC, Vellore, and thus, are able to avail of ultra specialized investigations such as direct immunofluorescence and tests for special antibodies.
We do cosmetic treatment for lesions such as moles, some types of birthmarks, warts, freckles, acne, acne scarring, keloids, post chicken pox scars and rosacea.
Dermatologists:
Dr. Sheela Daniel, DNB (Dermatology)
Dr. Sobha Johnson, MBBS, Dip.in D.V.D ( Derm)
Dr. Ilse Horo, MBBS, MD (Derm)
Dr. Prema Gethsi Doris MD (Dermatology)
Dr. Aman Andrews , MBBS (Dept. of Dermatology)
Dr.Venkatesh Ragav , MBBS (Dept.Dermatology)
We have the facilities for whole body phototherapy with UVA as well as narrow band UVB. There is also a facility for hand and foot Puva therapy easily accessible at Katpadi Clinic (PBIHC, our branch near Old Katpadi). The Department has a CO2 laser, a micromotor dermabrader, and facilities for cryosurgery, radiofrequency cautery and electrocautery
SHARE THIS STORY, CHOOSE YOUR PLATFORM!
The Schieffelin Institute of Health – Research & Leprosy Centre (SIH-R & LC),
Karigiri, (via Katpadi) – 632106, Vellore District,
Tamil Nadu, India.
Phone: 0416-2274-223
Mobile: 9442274224
Email: directorate@karigiri.org
Web: www.leprosyhealth.org