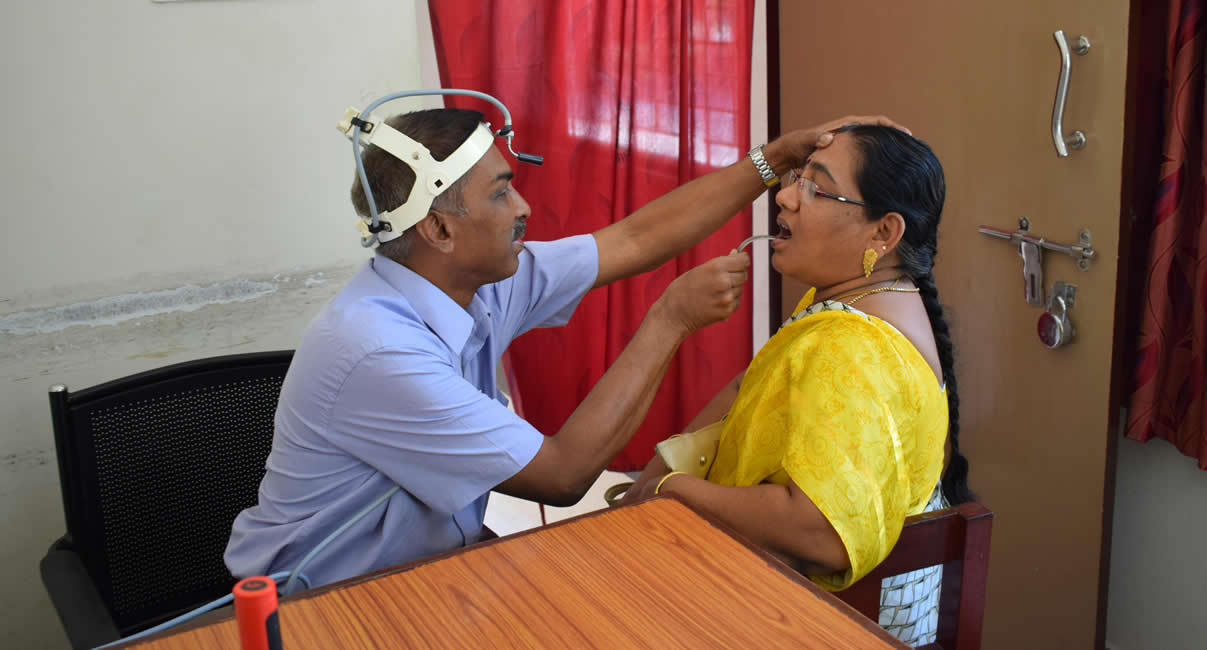 Dr Daniel K Mani, MBBS, DLO, MS (ENT)
The Ear, Nose & Throat Department at Karigiri Hospital was begun in 1998 with the ENT specialist, Dr. Daniel K Mani joining the Institution. Prior to that, there were periodic visits of ENT specialists from CMC, Vellore to provide treatment for ENT ailments common to and peculiar to the Leprosy affected – for whom this unique hospital was and is almost their only oasis of hope and succour.
With the integration of Leprosy services into General Health stream and more and more Non Leprosy patients coming to Karigiri, ENT Specialist care at / up to Secondary level is available for both Leprosy and Non Leprosy patients. Also, the ENT Specialist has taken up collaborative studies, along with other Leprosy Service Departments, on the Nasal involvement in Leprosy.
Over the years 1998 to 2015, the ENT Department has shown steady increase in the number of out-patients, in-patients as well as surgeries. Post retirement, since mid 2015, the ENT specialist continues to work as part time Consultant.
Thus the ENT Department has grown and has contributed to the growth of the hospital, complementing and being encouragingly supported by other Leprosy and Non Leprosy services and training at Karigiri
On Tuesdays and Thursdays in Karigiri Hospital OPD.
On Mondays and Wednesdays at Gudiyatham Clinic – branch of Karigiri Hospital.
Patients needing IP surgical treatment upto secondary level are operated and curative care is provided, since the support of Operation Theatre and Anaesthesia services are available.
Those in need of referral to higher care are sent to ENT Department, CMC, Vellore.
Presently, the bulk of OP and IP clientele patients comprises of Non Leprosy general patients from Karigiri and other villages nearby and also from the semi urban areas of Katpadi and Vellore towns. However in keeping with the ethos and focus of the institution, care of leprosy patients for ENT ailments is given priority.
In this unique Karigiri atmosphere of holistic care for both Leprosy and Non leprosy patients, the conscious and continuous effort to serve both streams in contiguous, unsegregated place and settings, has considerably helped intermingling, increasing acceptance of each other and reducing the stigma of leprosy
SHARE THIS STORY, CHOOSE YOUR PLATFORM!
The Schieffelin Institute of Health – Research & Leprosy Centre (SIH-R & LC),
Karigiri, (via Katpadi) – 632106, Vellore District,
Tamil Nadu, India.
Phone: 0416-2274-223
Mobile: 9442274224
Email: directorate@karigiri.org
Web: www.leprosyhealth.org