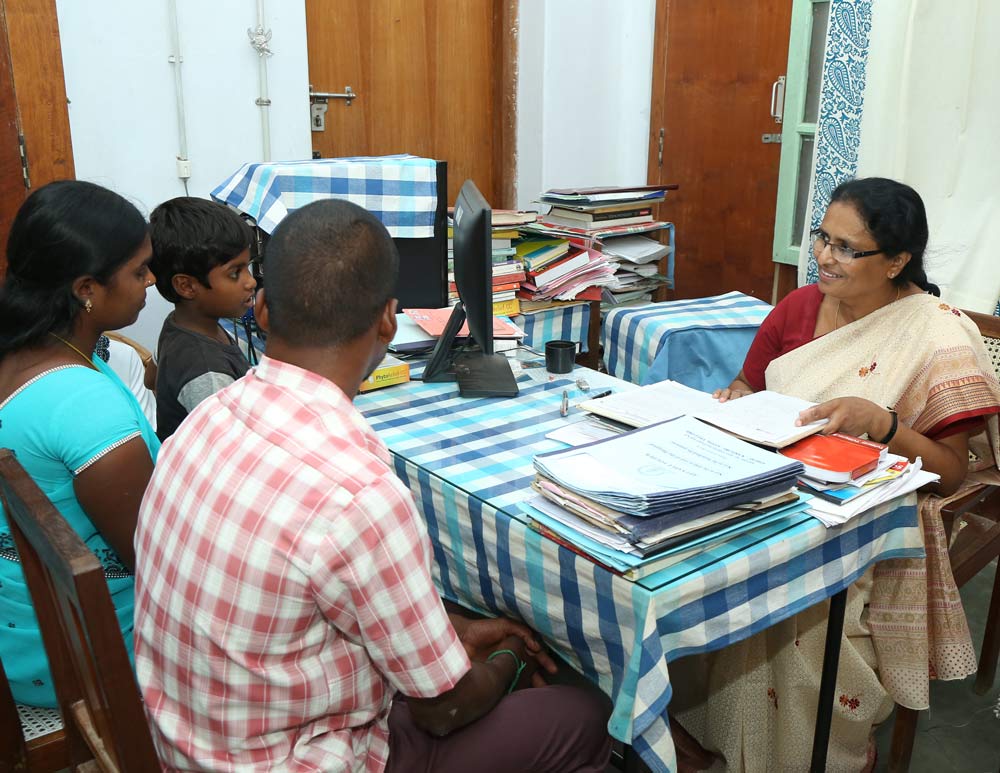 Psychologist: Mrs Valsa Augustine
Karigiri's origin has its roots in a deep felt spirit of compassion and care stemming from the heart of pioneers, for those affected by leprosy who were neglected in a general health setup in the early days. This desire to provide a personal and wholistic care to the leprosy affected continues to be an integral part of Karigiri's work even after the integration with general services.
As we continue to see people affected by leprosy we are constantly aware and remind ourselves of the fact that our mission is incomplete if we have not addressed the `person' in the patient and his psychological, social and economical needs. The need for inner well being is felt more due to the stigma the disease attracts.
Very often patients, who come for MDT or ulcers or just for a follow-up after RFT, may not have the courage to voice out their emotional or livelihood needs, unless they are asked. They resign themselves to the fact that they have to live with their problems. Clinical Psychology service was started as an  attempt to address their concerns and be an "ear"  to listen and help them in their journey with Leprosy as they  cope with the challenges and bring about a change in their lives wherever possible.
The department extends psychological support to people affected by leprosy, addressing their fears, misconceptions and stigma, improving treatment adherence and coping skills.
Helps with interventions to face consequence of stigma in leprosy and similar conditions such as Vitiligo, psoriasis etc.
Offers counselling for other stigmatizing diseases like HIV/AIDS.
Provides screening & referral services to patients with Psychiatric conditions.
Family counselling focused on facilitating acceptance, increasing the support and improving the quality of family relationships.  The department has been actively encouraging the participation of the family in the treatment and care of the patient, in order to strengthen family support.
The psychologist is involved as a faculty in psychology in the school of Nursing, and for a two of the Allied Health Degree courses. Training on basic counselling skills is offered on request for students from other institutions
The department has been involved in various Tool development  projects to measure stigma and counselling aspects both with national and International research projects.
Recently the department completed an ICMR sponsored project on "EFFECTS OF THE IMPACT OF COUNSELLING INTERVENTION ON LIFE SITUATIONS OF THE STIGMATIZED VITILIGO AND PSORIASIS PATIENTS" .
As part of the ILEP Guidelines to reduce stigma, the 4th guide line on "counselling to reduce stigma" is published.  Among the ten member team from various countries, who worked towrds bringing out this guideline, Psychologist from Karigiri was one of the contributors and was also the coordinator of this working group.
Recognition: To be added
Publications: To be added
The department would be happy to welcome volunteers and elective students to help with counselling and research projects.
Karigiri Hospital Phone 0416-2274229 / 223
SHARE THIS STORY, CHOOSE YOUR PLATFORM!
The Schieffelin Institute of Health – Research & Leprosy Centre (SIH-R & LC),
Karigiri, (via Katpadi) – 632106, Vellore District,
Tamil Nadu, India.
Phone: 0416-2274-223
Mobile: 9442274224
Email: directorate@karigiri.org
Web: www.leprosyhealth.org