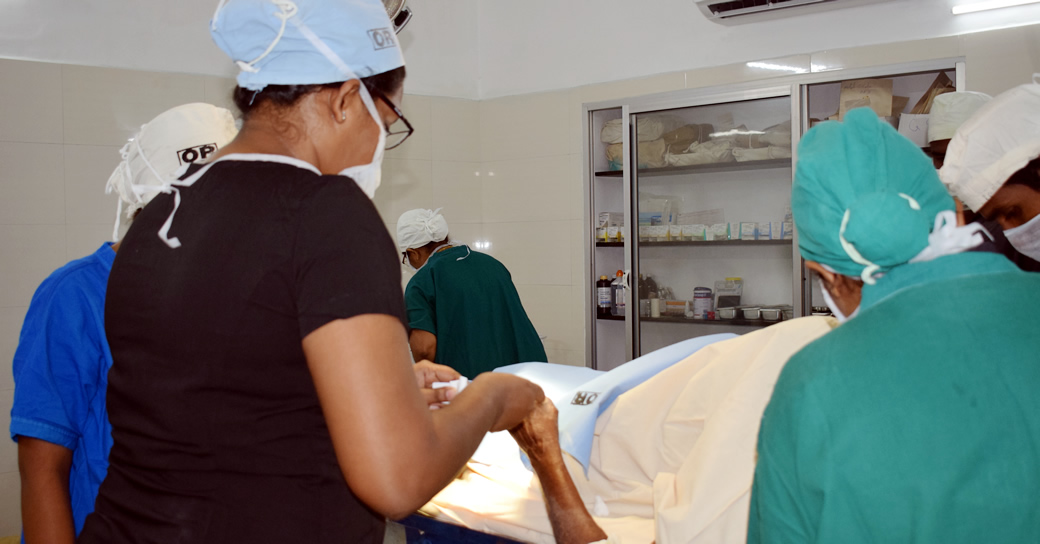 Ever since Schieffelin Leprosy Research and Training Centre (as it was then called) (SLRTC) was started in Karigiri in 1955, rehabilitative surgery in leprosy has been a part of the research and training activities of the institution. Most of the procedures currently being done for leprosy have been pioneered here.
Surgeries of the hand, feet, eyelids, nose and face were first done here in Karigiri following the initial work done in Christian Medical College Vellore. Much of the pioneering work was shared between these two institutions. Dr.Paul Brand, who initially started surgical work in leprosy in Christian Medical College in Vellore was instrumental in setting up the department of surgery in Karigiri and the pioneering work was continued by Dr.Ernest Fritschi who was SLRTC's first resident surgeon. Salvage procedures of the limbs such as debridement and reconstruction of the sole, muscle balance procedures for the hands, feet and eyelids and reconstructive procedures for the nose and face were all pioneered in Karigiri. Not only was surgical rehabilitation addressed here, but associated disciplines such as physiotherapy, occupational therapy and counselling for leprosy were developed and perfected here. Care of the insensitive limbs and eyes became an offshoot of these activities and developed here as a discipline and came to be called "Care after cure" and "Prevention of Impairment and Disability". These concepts and procedures were not just developed and done in Karigiri, but many professionals interested in these disciplines from all over the world, received training here.
With the slow dwindling numbers of patients requiring such procedures, the department of surgery broadened its scope to address deformity and disability through Orthopaedic surgery and Plastic Surgery. Post-traumatic and post-burn deformities and disabilities, congenital deformities and disabilities and post-infective tissue defects are all being addressed here.
Today, the surgery department of Schieffelin Institute of Health Research and Leprosy Centre (SIHRLC) Karigiri, has grown to address General surgery, Orthopaedic surgery, Plastic surgery and Obstetrics and Gynaecology procedures.
Surgeons from SIHRLC, Karigri, not only do reconstructive surgeries in leprosy in our own institute, but go wherever there is a need for such surgeries and operate and train people in addressing these needs.
The department currently collaborates with other organisations in research and is currently involved in multi-centric studies with the Indian Council of Medical Research (ICMR).
IN THE DEPARTMENT:
Dr.Jerry Joshua, MS, MCh (Plastic Surgery)
Dr. Benedict Joshua,MS (General Surgery)
Dr. Prabakaran V, MBBS
SHARE THIS STORY, CHOOSE YOUR PLATFORM!
The Schieffelin Institute of Health – Research & Leprosy Centre (SIH-R & LC),
Karigiri, (via Katpadi) – 632106, Vellore District,
Tamil Nadu, India.
Phone: 0416-2274-223
Mobile: 9442274224
Email: directorate@karigiri.org
Web: www.leprosyhealth.org